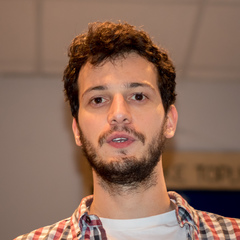 Hi there! My name is Eugen (that's me on the right), a physicist and a computer scientist by vocation and a school teacher by practice and calling. Ideally I see myself as a physics teacher on a secondary school level because I think and feel that it best fits my abilities, knowledge and interests.
A short overview of my life so far is that I have completed a 3-year bachelor in computing, a 2-year master in ICT/CS and a 5-year integrated master in research-oriented physics at the University of Zagreb. It took me 9 years to do that after which I spent a year and a half on a postgraduate program in biophysics at UCL London which I terminated prematurely and returned to Zagreb in order to achieve what I felt, and still feel, is my calling. During that year and a half I worked on computer models and simulations of biological systems and I have made some interesting results that I'm still working on in the hope of turning them into scientific papers and a PhD in bioinformatics sometime in the near future. More about my dealings with science can be found on the science subpage.
After my return from London I started teaching in croatian schools and during 2 years working in the Rudolf Perešin Aeronautical Technical School I acquired pedagogical competences at the University of Zagreb and became a certified school teacher by passing the state exam. I am currently looking for a position as a physics teacher in a secondary school (ideally a gymnasium) and more about my pedagogical work and experiences can be found on the teaching subpage and in my resume.
Among many other (non-professional) things that interest me and that I have done in my life (currently) the most prominent are politics and philosophy in the intellectual realm, in the realm of art it's almost exclusively music (in various passive and active forms) and in the sports and general passtime category it is climbing/mountaineering and tournament poker.
More about my qualifications, various experience and me personally can be found in my CV (link on the left of this text). For those who like the format and design of the CV I have prepared a documented template that an average LaTeX user should be able to adapt to their needs relatively easily.
My name
Croatian is a bit of a difficult and weird language for most people, a typical Slavic language. What is good about it is that it has phonological orthography, meaning basically that every letter has a sound and only that sound, regardless of its position in a word. So if you know how to pronounce "e", "u", "g" and "n" in Croatian then you know how to say my name! This is why I wrote my name in IPA and made it a link to a pronunciation guide for English. Anyway, this is all just for fun and learning, you can go ahead and just call me /juːdʒiːn/ (Eugene in English).
About this website
This site is hosted by Github Pages and uses Jekyll, a static page generator. The design is by me and the website code is available in the appropriately named Github repository for everyone to see and use however they like :)